Where do the Johnston's come from?
Sometime around 1124 Normans lords traveled with King David I of Scotland to an area called The Borders.
It was here the king deeded to the de brus clan a parcel of land (200,000 acres) in the area called Annandale. One
of these lords went by the name of John, this was his only name. The de brus clan deeded a parcel of their land to
John, and this became John's land and these lands came to be known as Jonestun, literally meant the "lands of
John". Of course John didn't go by this name (Jonestun), but his son became known as Gilbert de Johnestune.
This name was given to countless thousands who sought refuge in the land of Johnstone.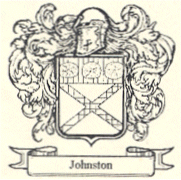 Please Send Enquires to ljohnston@ljohnston.com Click Coat of arms to continue